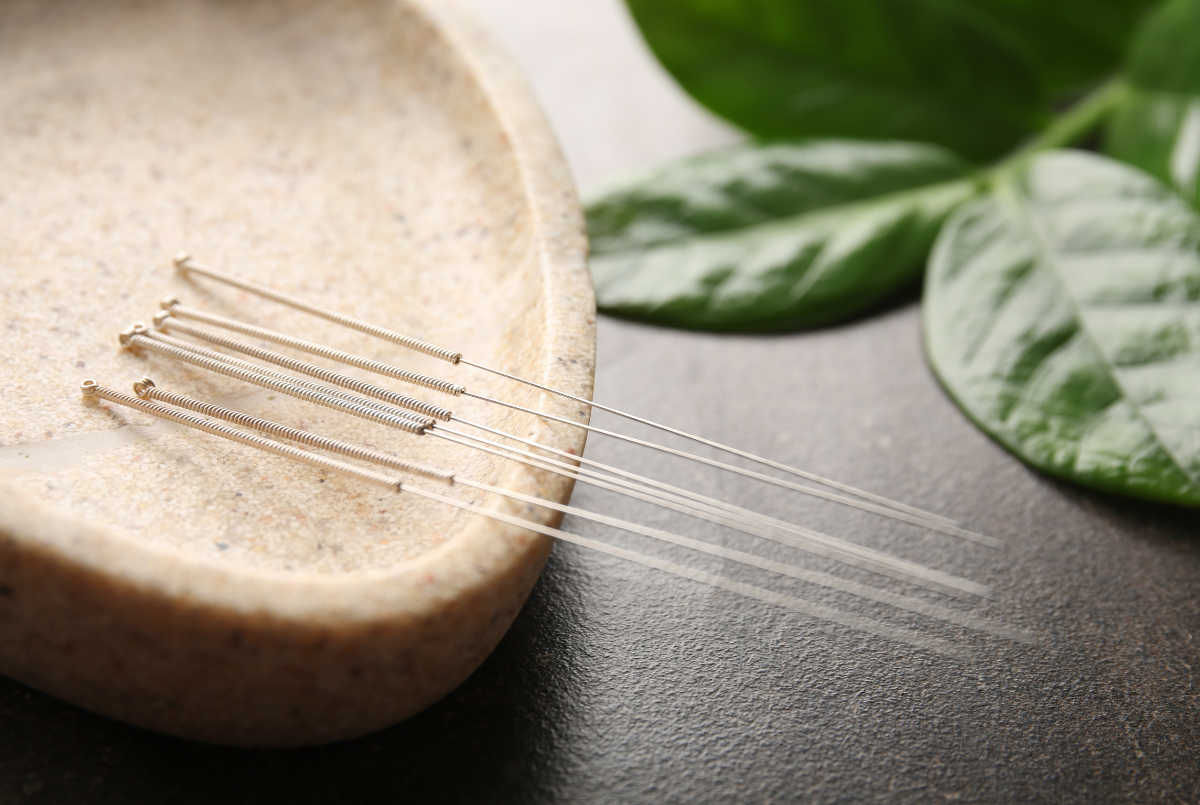 23 Feb

Acupuncture: Can it Help You Get Pregnant?

If you are trying to conceive, it is likely you are making changes to increase your chances of a successful pregnancy. Those changes may include a change in lifestyle habits or a consultation with a specialist.

Some patients explore complementary methods like acupuncture, a natural practice that's thousands of years old.

"It can be a real struggle to not be able to achieve pregnancy when you want to," stated Reproductive Endocrinologist Jenna Rehmer, MD. "Oftentimes, people who want to conceive look into anything they can that might help them achieve that goal."

Dr. Rehmer and licensed acupuncturist Megan Scott, LAC, explain how acupuncture may help you when you're trying to get pregnant.
What is Acupuncture?
Acupuncture is the practice of penetrating the skin with thin, solid, metallic needles which are then activated through gentle and specific movements of the practitioner's hands or with electrical stimulation.
Acupuncture is part of the ancient practice of Traditional Chinese medicine. Traditional Chinese medicine practitioners believe the human body has more than 2,000 acupuncture points connected by pathways or meridians. These pathways create an energy flow through the body that is responsible for overall health. Disruption of the energy flow can cause disease. By applying acupuncture to certain points, it is thought to improve the flow of Qi, thereby improving health.
Studies have shown that acupuncture may be effective for a variety of conditions.
Can Acupuncture Help You Get Pregnant?
You may have heard that acupuncture helps improve the chance of pregnancy. However, the science and research regarding acupuncture and fertility is ongoing and conflicting. Some studies say acupuncture can improve sperm quality and ovarian function, but no conclusive evidence shows that acupuncture can treat infertility or help you conceive.
"The literature looking at different ways to achieve fertility is vast," stated Dr. Rehmer. "But the data are just not currently really supportive of these alternative methods."
In one study of women undergoing in vitro fertilization (IVF), for example, acupuncture "resulted in no significant difference in live birth rates."
Anecdotally, many people swear by the benefits of acupuncture when they are trying to conceive. Licensed acupuncturists often work with individuals and couples who are hoping to get pregnant.
"Patients seek acupuncture at all stages of attempting to conceive, including soon after discontinuing birth control; after months and months of trying with no success; and when seeking support after failed IVF attempts," Rehmer adds. "Acupuncturists can be of support to patients wherever they are in their fertility journey."
To learn more about these topics and speak to one of our physicians about fertility treatment, you can request a consultation here.